Product Summary
The CD4069UBE consists of six CMOS inverter circuits and this device is supplied in 14-lead hermetic dual-in-line ceramic pack- ages (D and Fsuffixes), 14-leaddual-in-line plastic package (E suffix), and in chip form (H suffix). It is intended for all general-purpose inverter applications where the medium-power TTL- drive and logic-level-conversion capabilities of circuits such as the CD4009 and CD4049 Hex Inverter/Buffers are not required.
Parametrics
Absolute maximum ratings:(1)DC supply-voltage range, (VDD) voltages referenced to VSS terminal): -0.5V to +20V; (2)input voltage range, all inputs: -0.5V to VDD + 0.5V; (3)DC input current, any one input: 士10mA; (4)power dissipation per package (PD): For TA = -55°C to +100°C: 500m W; for TA+100°C to +125°C: derate linearly at 12W/°C to 200mW; (5)device dissipation pea output transistor; (6)for TA=full package-temperature range (all package tyres): 100mW; (7)operating-temperature range (TA): -55°C to 125°C; (8)storage temperature range (Tstg): -65°C to +150°C.

Features
Features: (1)standardized symmetrical output characteristics; (2)medium Speed at 70V; (3)operation-tpHL, tpLH=30 ns (typ) at 10V; (4)100% tested for quiescent current at 20 V; (5)maximum input current of 1 μA at 18 V over full package-temperature range; 100 nA at 18 V and 25°C; (6)meets all requirements of JEDEC tentative standard No. 138, "standard specifications for description of B Series.CMOS Devices".
Diagrams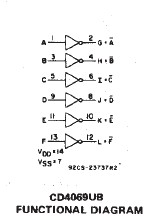 Image
Part No
Mfg
Description
Pricing
(USD)
Quantity

CD4069UBE

Texas Instruments

Inverters Hex

Data Sheet



| | |
| --- | --- |
| 0-1: | $0.25 |
| 1-25: | $0.21 |
| 25-100: | $0.16 |
| 100-250: | $0.13 |


CD4069UBEE4

Texas Instruments

Inverters CMOS HEX INVERTER

Data Sheet



| | |
| --- | --- |
| 0-1: | $0.28 |
| 1-25: | $0.22 |
| 25-100: | $0.17 |
| 100-250: | $0.11 |