Product Summary
The MC33063AVDR2G is one member of the MC33063A family which is designed as the 1.5 A step up / down/ inverting switching regulator. And this device consists of an internal temperature compensated reference, comparator, controlled duty cycle oscillator with an active current limit circuit, driver and high current output switch.

Parametrics
Absolute maximum ratings::(1)Power Supply Voltage: 40 Vdc;(2)Comparator Input Voltage Range: -0.3 to +40 Vdc;(3)Switch Collector Voltage: 40 Vdc;(4)Switch Emitter Voltage (VPin 1 = 40 V): 40 Vdc;(5)Switch Collector to Emitter Voltage: 40 Vdc;(6)Driver Collector Voltage: 40 Vdc;(7)Driver Collector Current: 100 mA;(8)Switch Current: 1.5 A;(9)Operating Junction Temperature: +150 °C;(10)Storage Temperature Range: -65 to +150 °C.
Features
Features:(1)Operation from 3.0 V to 40 V Input; (2)Low Standby Current; (3)Current Limiting; (4)Output Switch Current to 1.5 A; (5)Output Voltage Adjustable; (6)Frequency Operation to 100 kHz; (7)Precision 2% Reference; (8)Pb-Free Packages are Available.
Diagrams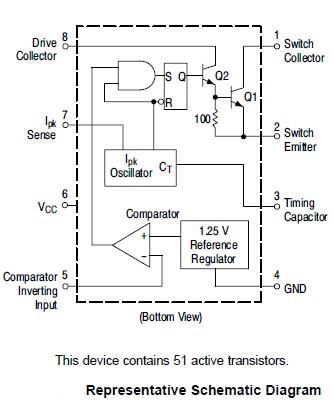 Image
Part No
Mfg
Description
Pricing
(USD)
Quantity

MC33063AVDR2G

ON Semiconductor

Switching Converters, Regulators & Controllers 40V 1.5A Buck/Boost/Inverting

Data Sheet



| | |
| --- | --- |
| 0-1650: | $0.21 |
| 1650-2000: | $0.19 |
| 2000-2500: | $0.19 |
| 2500-5000: | $0.18 |

Image
Part No
Mfg
Description
Pricing
(USD)
Quantity

MC3302/4

Other



Data Sheet

Negotiable

MC33023

Other



Data Sheet

Negotiable

MC33023DW

ON Semiconductor

Current Mode PWM Controllers Single Ended Voltage

Data Sheet

Negotiable

MC33023DWG

ON Semiconductor

Current Mode PWM Controllers Single Ended Voltage or Current Mode PWM

Data Sheet



| | |
| --- | --- |
| 0-1: | $3.14 |
| 1-25: | $2.62 |
| 25-100: | $1.60 |
| 100-500: | $1.57 |


MC33023DWR2

ON Semiconductor

Current Mode PWM Controllers Single Ended Voltage

Data Sheet

Negotiable

MC33023DWR2G

ON Semiconductor

Current Mode PWM Controllers Single Ended Voltage or Current Mode PWM

Data Sheet



| | |
| --- | --- |
| 0-490: | $1.87 |
| 490-500: | $1.51 |
| 500-1000: | $1.27 |
| 1000-2000: | $1.21 |