Product Summary
The 1.5SMC30AT3G is a Surface Mount Bi-Directional Glass Passivated Junction Transient Voltage Suppressor. It is designed to protect voltage sensitive components from high voltage transients. The 1.5SMC30AT3G is manufactured with a glass passivated chip for optimum reliability.
Parametrics
1.5SMC30AT3G absolute maximum ratings: (1)Peak Power Dissipation PPM: 1500 W; (2)Peak Forward Surge Current (JEDEC Method) IFSM: 200 A; (3)Operating and Storage Junction Temperature TJ,Tstg: -65 to +150 ℃.
Features
1.5SMC30AT3G features: (1)VBR: 34.2 to 37.8 V; (2)Working peak reverse voltage: 18.8V; (3)Maximum reverse leakage @ @VRWM: 5μA; (4)Maximum reverse surge current: 30A; (5)Maximum reverse voltage @ IRSM: 49.9V; (6)Maximum temp. coefficient 0.099 %/℃.
Diagrams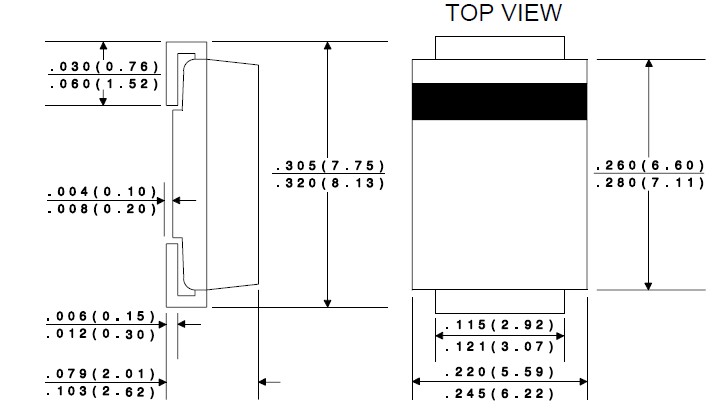 Image
Part No
Mfg
Description
Pricing
(USD)
Quantity

1.5SMC30AT3G

ON Semiconductor

TVS Diodes - Transient Voltage Suppressors 30V 1500W Unidirectional

Data Sheet



| | |
| --- | --- |
| 0-1: | $0.32 |
| 1-25: | $0.27 |
| 25-100: | $0.19 |
| 100-500: | $0.16 |

Image
Part No
Mfg
Description
Pricing
(USD)
Quantity

1.5SMC

Other



Data Sheet

Negotiable

1.5SMC Series

Other



Data Sheet

Negotiable

1.5SMC10

Littelfuse

TVS Diodes - Transient Voltage Suppressors 1.5SMC10

Data Sheet



| | |
| --- | --- |
| 0-1: | $0.35 |
| 1-25: | $0.33 |
| 25-100: | $0.28 |
| 100-250: | $0.25 |


1.5SMC100

Littelfuse

TVS Diodes - Transient Voltage Suppressors 1.5SMC100

Data Sheet



| | |
| --- | --- |
| 0-1: | $0.35 |
| 1-25: | $0.33 |
| 25-100: | $0.28 |
| 100-250: | $0.25 |


1.5SMC100A

Littelfuse

TVS Diodes - Transient Voltage Suppressors 1.5SMC100A

Data Sheet



| | |
| --- | --- |
| 0-1650: | $0.19 |
| 1650-3000: | $0.14 |
| 3000-6000: | $0.14 |
| 6000-12000: | $0.13 |


1.5SMC100A/57T

Vishay Semiconductors

TVS Diodes - Transient Voltage Suppressors 1500W 100V Unidirect

Data Sheet

Negotiable