Product Summary
The TLV431AIDBZR is a low-voltage adjustable precision shunt regulator.
Parametrics
TLV431AIDBZR absolute maximum rating: (1)Cathode voltage, VKA: 7V; (2)Continuous cathode current range, IK: -20mA to 20mA; (3)Reference current range, Iref: -0.05mA to 3mA; (4)Package thermal impedance: 97℃/W; (5)Operating virtual junction temperature: 150℃; (6)Storage temperature range, Tstg: -65 to 150℃.
Features
TLV431AIDBZR features: (1)Low-voltage, VREF=1.24V; (2)Adjustable output voltage, VO=VREF to 6V; (3)Reference voltage tolerances at 25℃: 1%; (4)Typical temperature drift; (5)Low operational cathode current: 80μA; (6)0.25Ω typical output impedance; (7)Ultra-small SC-70 package offers 40% smaller footprint than SOT-23-3.
Diagrams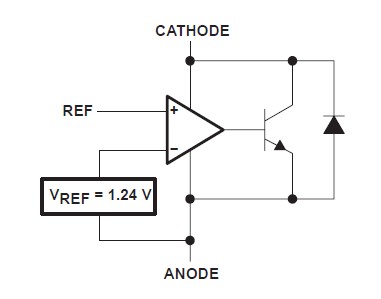 Image
Part No
Mfg
Description
Pricing
(USD)
Quantity

TLV431AIDBZR

Texas Instruments

Voltage & Current References Lo Vtg Adj Precision Shunt Regulator

Data Sheet



| | |
| --- | --- |
| 0-1: | $0.38 |
| 1-25: | $0.27 |
| 25-100: | $0.23 |
| 100-250: | $0.20 |


TLV431AIDBZRG4

Texas Instruments

Voltage & Current References Lo Vtg Adj Precision Shunt Regulator

Data Sheet



| | |
| --- | --- |
| 0-2000: | $0.18 |
| 2000-3000: | $0.17 |
| 3000-6000: | $0.16 |
| 6000-12000: | $0.15 |