Product Summary
Intended for analog and digital satellite STB receivers/SatTV, sets/PC cards, the LNBH21PDT-R is a monolithic voltage regulator and interface IC, assembled in POWER SO-20, specifically designed to provide the 13/18V power supply and the 22KHz tone signalling to the LNB downconverter in the antenna or to the multiswitch box. In this application field, it offers a complete solution with extremely low component count, low power dissipation together with simple design and I2CTM standard interfacing.
Parametrics
Absolute maximum ratings:(1)DC Input Voltage, VCC: -0.3 to 16V; (2)DC Input Voltage, VUP: -0.3 to 25V; (3)Output Current, IO: Internally Limited VmA; (4)DC Output Pins Voltage, VOTX/RX: -0.3 to 25V; (5)Logic Input Voltage (SDA, SCL, DSQIN, ISEL), VI: -0.3 to 7V; (6)Detector Input Signal Amplitude, VDETIN: -0.3 to 2VPP; (7)Logic High Output Voltage (DSQOUT), VOH: -0.3 to 7V; (8)Gate Current, IGATE: ±400mA; (9)Current Sense Voltage, VSENSE: -0.3 to 1V; (10)Address Pin Voltage, VADDRESS: -0.3 to 7V; (11)Storage Temperature Range, Tstg: -40 to +150℃; (12)Operating Junction Temperature Range, Top: 40 to +125℃.
Features
Features:(1)complete interface betweenLNB and I2CTM bus; (2)built-in DC/DC controller for single 12V supply operation and high efficiency ; (3)two selectable output current limit (450mA / 750mA); (4)both compliant with eutelsat and direct output voltage; (5)accurate built-in 22khz tone oscillator suits widely accepted standards; (6)fast oscillator start-up facilitates DiSEqCTM encoding; (7)built-in 22KHz tone detector supports bi-directional DiSEqCTM2.0; (8)semi-lowdrop post regulator and high efficiency step-up PWM for low power loss: Typ. 0.56W @ 125mA; (9)two output pins suitable to bypass; (10)the output r-l filter and avoid any tone distorsion; (11)cable length digital compensation; (12)overload and over-temperature internal protections.
Diagrams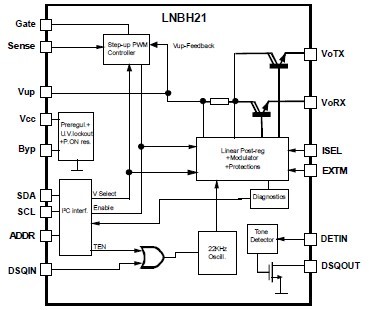 LNBH21

Other



Data Sheet

Negotiable

LNBH21PD-TR

STMicroelectronics

Switching Converters, Regulators & Controllers LNB Supply/Cont IC

Data Sheet



| | |
| --- | --- |
| 0-1: | $2.89 |
| 1-10: | $2.57 |
| 10-100: | $2.23 |
| 100-250: | $1.88 |


LNBH221

Other



Data Sheet

Negotiable

LNBH221PD-TR

STMicroelectronics

Switching Converters, Regulators & Controllers LNB Supply/Control

Data Sheet

Negotiable

LNBH23LQTR

STMicroelectronics

Linear Regulators - Standard LNB SUPP/CNTRL IC WITH STEP UP

Data Sheet



| | |
| --- | --- |
| 0-1: | $1.39 |
| 1-10: | $1.22 |
| 10-100: | $1.03 |
| 100-250: | $0.92 |


LNBH23PPR

STMicroelectronics

Switching Converters, Regulators & Controllers LNB supply and control IC

Data Sheet



| | |
| --- | --- |
| 0-630: | $1.43 |
| 630-1000: | $1.25 |
| 1000-2000: | $1.19 |
| 2000-5000: | $1.15 |