Product Summary
The OXUPCI954-LQAG is an integrated high perfomance quad UART.
Parametrics
OXUPCI954-LQAG absolute maximum ratings: (1)VCC, core power supply: -0.3 to 3.9V; (2)VCC5, power supply of 5V I/O: -0.3 to 6V; (3)VIN3, intput voltage of 3.3V I/O: -0.3 to VCC+0.3V; (4)Vout, output voltage of 3.3V I/O: -0.3 to VCC+0.3V; (5)TSTG, storage temperature: -40 to 150℃.
Features
OXUPCI954-LQAG features: (1)Programmable RS485 turnaround delay; (2)Arbitrary trigger levels for receiver and transmitter FIFO interrupts and automatic in-band and out-of-band flow control; (3)Detection of bad data in the receiver FIFO; (4)8-bit pass-through local bus; (5)Local registers to provide status/control of device functions.
Diagrams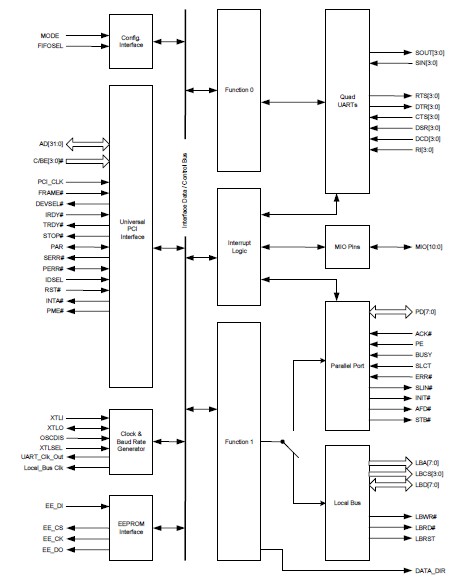 Image
Part No
Mfg
Description
Pricing
(USD)
Quantity

OXUPCI954-LQAG

PLX Technology

Peripheral Drivers & Components (PCIs) PCI bridge-quad serial & paralll prt

Data Sheet



| | |
| --- | --- |
| 0-38: | $8.64 |
| 38-50: | $8.10 |
| 50-100: | $7.56 |
| 100-500: | $7.29 |

Image
Part No
Mfg
Description
Pricing
(USD)
Quantity

OXuPCI952

Other



Data Sheet

Negotiable

OXUPCI952-LQAG

PLX Technology

Peripheral Drivers & Components (PCIs) PCI bridge-quad serial & paralll prt

Data Sheet



| | |
| --- | --- |
| 0-1: | $4.31 |
| 1-50: | $4.04 |
| 50-100: | $3.77 |
| 100-500: | $3.64 |


OXuPCI954

Other



Data Sheet

Negotiable

OXUPCI954-LQAG

PLX Technology

Peripheral Drivers & Components (PCIs) PCI bridge-quad serial & paralll prt

Data Sheet



| | |
| --- | --- |
| 0-38: | $8.64 |
| 38-50: | $8.10 |
| 50-100: | $7.56 |
| 100-500: | $7.29 |